Make a wish; we've got magical curls in the making! The Magic Curling Wand is made with an ultra-smooth, 100 percent titanium barrel, offering maximum holding power. This premium curling wand is designed with a digital temperature display, far infrared heat, and negative ion conditioning technology to give you luscious and lasting results. This NuMe Product has options for a variety of hairstyles from tight ringlets to beach waves; it comes in three different sizes the 19mm, 25mm, and 32mm. The Magic Curling Wand's high ionic output locks in your hair's natural moisture for gleaming, soft-as-silk tresses and also comes with a heat-resistant styling glove. Safe for all hair types, best for thick or coarse hair.
Hair Type(s): Best for coarse to thick hair. Recommended to be used in combination with a heat protectant and lower heat setting for fine and color-treated hair.
Barrel Diameter Options
19mm barrel for tight ringlets
25mm barrel for glam curls
32mm barrel for beach waves
KEY FEATURES
Far infrared heat - moves directly into the hair follicle and out to the cuticle to protect strands over time.
Titanium - is a durable material that provides intense heat for lasting hairstyles in thick or coarse hair types.
Negative ion conditioning technology - maintains moisture and eliminates frizz by sealing the hair's cuticle while boosting shine.
HOW TO
Curl: Wrap small sections of hair around the barrel for three to five seconds. Catch the curl to cool and set, then release. Wear the heat-resistant styling glove for added protection.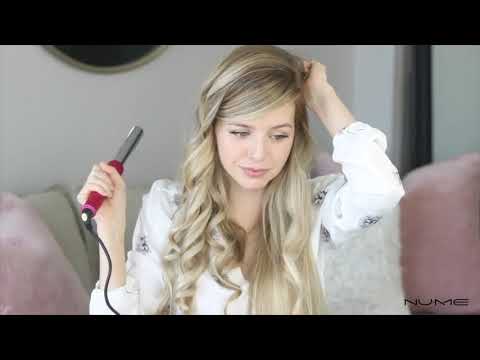 Romantic Soft Curls with NuMe Magic Wand
Easy Summer Beachy Waves Using Nume Magic Wand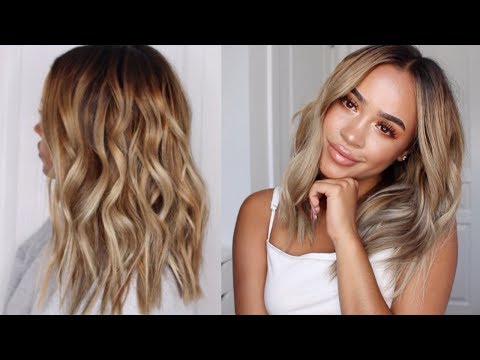 Easy and Perfect Summer Beacy Waves | Maria Bethany
More Information
Features

100 percent titanium barrel
Clipless design for crease-free curls
Heats to 450°F in seconds
On-off power button with indicator light
Digital display and temperature control
Far infrared heat
Negative ion conditioning technology
Fully rotating swivel power cord
Ergonomic design

Colors

Power Options

U.S.: All color variations
EU: Only in pink (turquoise and black include EU adaptor)

Temperature

Digital temperature control with color display from 140°F to 450°F (60°C to 232°C)

Electrical

Advanced PTC heating mechanism
Dual voltage 110-240V 50/60Hz
90W (U.S.)
ETL certified
10-60 minute automatic shutoff

Barrel Diameter Details

32mm (1-1/4 inch)
25mm (1 inch)
19mm (3/4 inch)

Barrel Length

Cord Length

Weight
140°F - 450°F
Yes
100% pure titanium
19mm (⅞"), 25mm (1"), and 32mm (1.25")
No
For beach waves, we recommend the 32mm size.
The curls will be much like ringlets.
No, our wands are of the clip-less design.
Yes
Yes, this tool will automatically shut off after 60 minutes.
Yes, this tool is dual voltage: 110V - 240V. It can be used internationally with the proper adapter.
Because the tool is dual voltage, we do not recommend the use of a converter with this tool - only an adapter.
We include complimentary adapters - type I (AU), type C (EU) or type G (UK) - with most international orders while supplies last.
Store in a cool dry place away from water/humidity. Be careful not to wrap the cord around your NuMe when the item is being stored. It is better to loosely fold the cord or make a loose figure 8 with the cord and tie with a rubber band. Always leave some slack right where the cord meets the base. If possible, try to store the tool in a padded pouch.