The Technique Hair Dryer features a pure ceramic grill, far infrared heat, negative ion conditioning technology, two temperature settings, two speed settings, a detachable concentrator, and a cool shot button. Its compact design makes it perfect for everyday use. The Technique Hair Dryer comes with a custom concentrator and is safe for all hair types.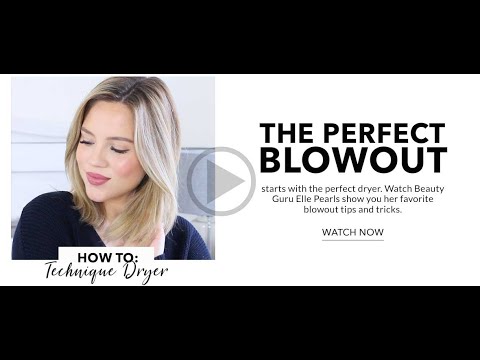 Achieve the Perfect Blowout with NuMe Technique Dryer
Hair Type(s): Safe for all hair types.
KEY FEATURES
Far infrared heat - moves directly into the hair follicle and out to the cuticle to protect strands over time.
Negative ion conditioning technology - maintains moisture and eliminates frizz by sealing the hair's cuticle while boosting shine.
Ceramic grill - conducts far infrared heat and negative ions for fast and healthier blowouts.
Cool shot button - works to set and smooth blowouts by sealing the cuticle which retains the shape and direction of the hairstyle.
HOW TO
Blowout: Adjust temperature and speed settings for your hair type and dry hair in sections. Set your hairstyle with the cool shot button.
More Information
Features

Lightweight design
Ceramic grill
Far infrared heat
Negative ion conditioning technology
2 speed settings
2 temperature settings
Cool shot button
Concentrator included

Colors

Power Options

Electrical

Cord Length

Weight
TheTechnique Dryer is made with an DC motor, great for everyday home use.
Our dryers emit negative ions which break up water molecules into smaller particles to dry hair faster. This results in a shorter drying time and less damage to hair.
This dryer has 2 speed settings (low and high) and 2 heat settings (low and high)
Yes
It is recommended that you use the cool shot button for 30 seconds at the end of your session to seal the cuticles.
The Technique Dryer comes with 1 mid-sized concentrator
This is our most lightweight dryer at .95 lb.
The filter can be unscrewed to allow for regular cleaning. Turn the filter cap clockwise to open then carefully wipe off any debris caught in the chamber. Regular cleaning is necessary to ensure the tool functions properly each time.
Unfortunately, this dryer is a single voltage dryer so it only has one voltage option: 110V. It is NOT recommended to be used in other countries with the use of an adapter or a converter. This dryer can only be used under the specified voltage conditions.
Both dryers have the same features. The only difference is the Technique Dryer is a limited edition of the Bold Dryer. Once the Technique Dryer sells out, it can no longer be restocked.