The Lustrum 5-in-1 interchangeable curling wand features five 100 percent tourmaline ceramic barrels. Get lasting hairstyles with these tourmaline ceramic barrels equipped with far infrared heat technology that naturally emit negative ions to combat frizz and add shine with every use. This 5-in-1 tool includes the 19mm, 25mm, 32mm, 25mm Cone, and Pearl barrels, a base, as well as a heat-resistant styling glove and a travel case. Safe for all hair types.
More than 3 wishes - the Lustrum delivers 5 curl types for endless wish-granting possibilities from this genie-in-a-barrel. Create almost any spiral, curl or wave possible!
Traditional: The 19mm wand creates soft, beautiful spirals and natural-looking, bouncy curls. The 25mm wand is perfect for adding volume and creating full, runway-worthy curls. The 32mm wand will give you bigger, more voluminous waves, especially if your hair is longer than shoulder-length.
Reverse: Measuring 25mm to 13mm from tip to base, the curls made by the Classic Reverse will be small and tight closer to the top, and bigger and softer toward the bottom.
Pearl: The Pearl wand is for the adventurous curl-seeker who loves to create different kinds of curls, from long beach curls to spirals, and even varying curl sizes thanks the barrel shape that alternates from 13mm to 25mm.
Infrared technology allows heat wavelengths to penetrate directly into the hair shaft, which means less time spent on styling, less heat exposure and less damage. Tourmaline emits negatively charged ions that prevent frizz and won't strip your hair of moisture or oils. The results speak for themselves: soft, tumbling curls or beachy waves with healthy shine!
Includes
5-in-1 interchangeable barrel base
19mm barrel
25mm barrel
32mm barrel
Reverse wand barrel
Pearl wand barrel
Heat-resistant glove
Roll-up travel/carry case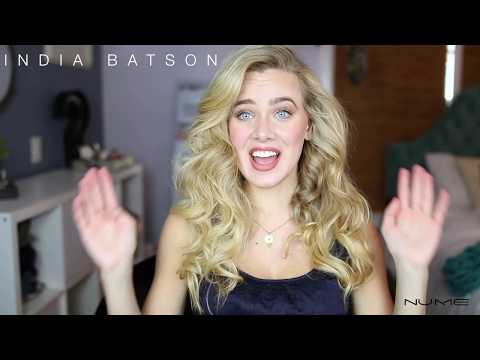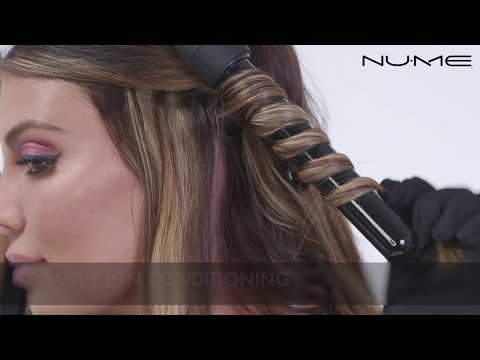 How I style my short hair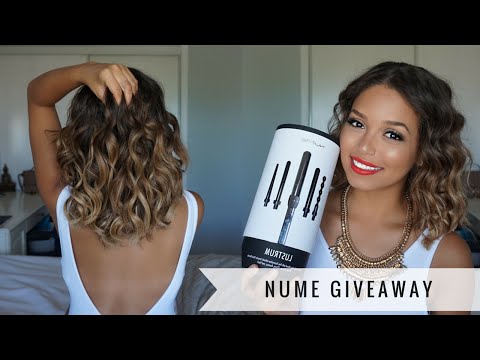 Voluminous Curls for Short Hair
Big Glamorous Curls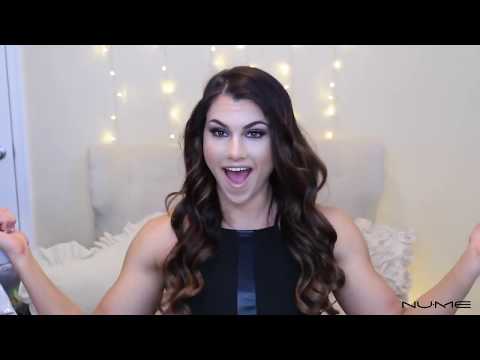 Fun and Flirty Curls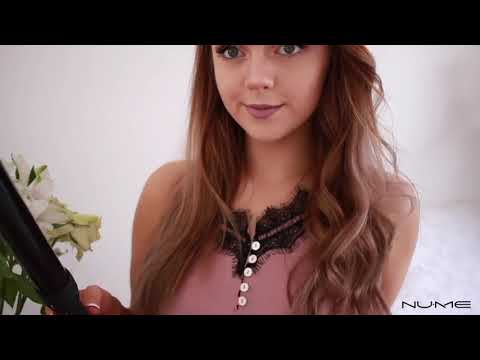 Beautiful Loose Curls with NuMe Lustrum Set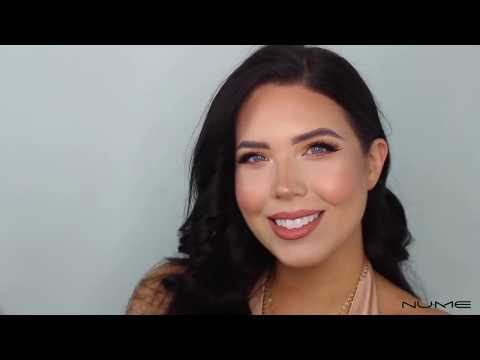 Bombshell Curls with NuMe Lustrum Set
More Information
Features

100 percent tourmaline ceramic barrel
Base
Clipless design for crease-free curls
Heats to 410°F in seconds
On-off power switch with indicator light
Far infrared heat
Negative ion conditioning technology
Fully rotating swivel power cord
Ergonomic design

Colors

Power Options

Temperature

Electrical

Dual voltage 110-240V, AU 220V
50/60Hz
60W (U.S.)/ 50W (AU)

Barrel Diameter Details

19mm (3/4 inch)
25mm (1 inch)
32mm (1-1/4 inch)
Pearl alternates from 13mm to 25mm (1 inch to 1/2 inch)
25mm Cone (1 inch to 1/2 inch) wider at base

Barrel Length

Cord Length

Weight

Type
Multi-Barrel