Silhouette Hair Straightener
The Silhouette Hair Straightener is made with 1-1/8-inch pure stone ceramic floating plates to give you a variety of curled and straight hairstyles. Stone ceramic gently glides over your hair, naturally emitting far infrared heat and negative ions for even heating and conditioned strands with each pass. Safe for all hair types, best for long and thick hair.
Hair Type(s): Safe for all hair types.
KEY FEATURES
1-1/8-inch floating plates - flexible and adjust to your hair, getting as close to your strands as possible to ensure one pass styling that's quick, easy and tug-free.
Beveled plate design - allows for versatile heat styling of curls and straight hairstyles.
Far infrared heat - sends a gentle heat directly into the hair follicle and out to the cuticle to protect strands over time.
Stone ceramic - offers a smooth, friction-free surface to reduce breakage and naturally conducts far infrared heat and negative ions for healthier heat styling.
HOW TO
Straighten: Slowly glide down each section of hair for your silkiest straight hairstyles.
Curl: Slightly angle your straightener and twist around small sections of hair to create loose waves or classic curls.
*Please note, because of the quality of ceramic stone in its purest form, this tool requires more careful handling than other materials such as tourmaline or titanium. Please store properly and use with care.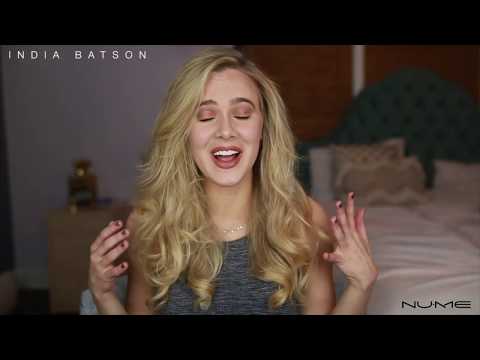 Polished & Frizz-Free Curls with NuMe Silhouette Hair Straightener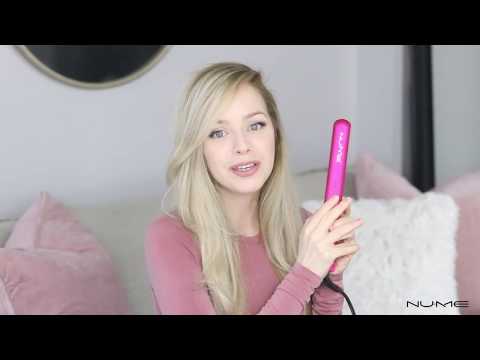 Flawless Faux Blowout with NuMe Silhouette Hair Straightener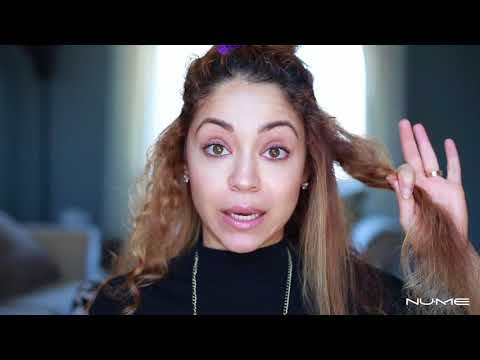 Sleek, Straight, and Frizz-Free with NuMe Silhouette Hair Straightener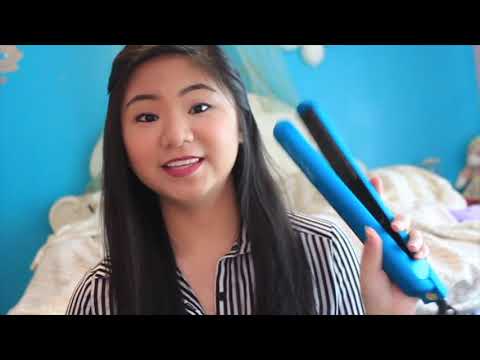 Shiny Straight Hair with NuMe Silhouette Straightener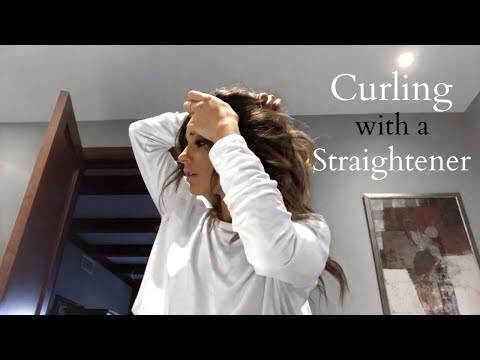 How To Curl Your Hair With A Straightener
More Information
Features

100 percent stone ceramic
1-1/8-inch floating plates
Heats up to 450°F in seconds
On-off power switch
Dial temperature control
Far infrared heat
Negative ion conditioning technology
Fully rotating swivel power cord
Ergonomic design with soft touch finish

Colors

Power Options

Temperature

Dial control ranging from 140°F (60°C) to 450°F (210°C)

Electrical

Dual voltage 110-240V
50-60Hz
105W (U.S.) / 60W (CAN)

Plate Dimensions

Cord Length

Weight
The Silhouette heats up to 450°F in seconds
No, but the heat setting can be adjusted with the temperature dial.
No
Yes, the edges of the plates are beveled which will allow you to curl.
The plates of the Silhouette Straightener are 1 1/8" inches wide (2.86cms/28.57mm)
The Silhouette is made of pure tourmaline ceramic floating plates.
Our 'floating plates' are crafted to be flexible so they can align to the exact thickness of the section of hair you are straightening. When you look at your NuMe Hair Straightener from the side, you'll see that the plates don't touch completely. This is not a product flaw but actually part of NuMe's sophisticated design technology. This gives plates optimum contact with hair and superior compression and heat distribution, so you get a smooth glide with every pass and softer, shinier hair every time.
Yes, this tool is dual voltage: 110V - 240V. It can be used internationally with the proper adapter.
Because the tool is dual voltage, we do not recommend the use of a converter with this tool - only an adapter.
We include complimentary adapters - type I (AU), type C (EU) or type G (UK) - with most international orders while supplies last.
Store in a cool dry place away from water/humidity. Be careful not to wrap the cord around your NuMe when the item is being stored. It is better to loosely fold the cord or make a loose figure 8 with the cord and tie with a rubber band. Always leave some slack right where the cord meets the base. If possible, try to store the tool in a padded pouch.